Organize Delightful Breakfast Events with Doorstep Donut Catering in Houston
Organize Delightful Breakfast Events with Doorstep Donut Catering in Houston

Morning traffic jams. Guests getting stuck up in traffic. Invitation. Coffee. Timing. There's a whole laundry list to do when thinking about having a breakfast event in your office or home. But, the good news is that with donut catering you have one thing less to do on your mind.
Here are great ways to organize your next breakfast event.
Choose a Variety of Food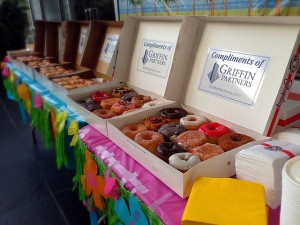 Breakfast catering is all about variety. Your guests want choices, and so do you. Having a variety of options helps ensure that there is something for everyone to rave about for long.
Donuts are an excellent way to make new friends and are a sweet staple for any event catering. You can include the most classic and beloved donut flavors – the glazed, chocolate glazed, cream-filled, or frosted & iced in your breakfast menu.
Apart from donut catering, kolaches appeal to guests who like savory breakfast goodies with fillings including sausage, peppers, cheese, and ham. For catering orders that include beignets, you can enjoy our New Orleans style pastry topped with a generous amount of powdered sugar.
You can also choose our ever-popular grilled chicken with pepper jack cheese and a side of spicy ranch dressing. Yum!
---
"Donuts are an excellent way to make new friends and are a sweet staple for any event."
---
Choose a Variety of Beverages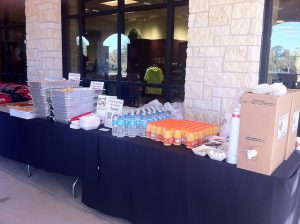 There are few meals of the day as demanding as breakfast when it comes to beverages. Some people just like to have their coffee. Regular, decaf, and it never hurts to have a dark roast, such as a French or Italian. (If you cater from MyShipleys, we'll make sure you have plenty of sugar and cream.)
For others, the drink of choice is good old O.J. Orange juice is a staple of our breakfasts. It's always a welcome, refreshing taste at the breakfast bar. Next up is milk. From coffee to cereal, or just straight up cold milk, this is another one you cannot overlook.
Next is water. With dieting more popular than ever, many people won't drink anything but water for breakfast, because they don't want the extra calories or caffeine.
These four drinks are a guaranteed win, but for a little extra flair, you can always throw in some apple, grape, or fruit punch. (MyShipleys cold beverages come chilled in large or individual bottles.)
Choose Affordable Catering Packages
The first reason that you may want to choose MyShipley's for donut catering in Houston is our affordable packages. Our full catering menus have everything that you will need for your special event or team meeting.
In addition to our standard variety of donuts and kolaches, our catering menu includes party pans of donut holes & kolache poppers, fresh-cut fruits, and 1- & 3-gallon disposable coffee containers.
Choose the Perfect Venue
Of course, no talk about Houston breakfast event would be complete without a quick mention of the venue. As we all know, a venue can literally make or break your event. Reliable, dependable services are a must. Plus, don't forget a place for people to eat their fantastic breakfast fare.
If your event doesn't have tables, then adding a few high, cocktail tables near the food will do. People will naturally go to the tables to eat, and then usually walk away when they're done, so you don't need a place for everyone. If your event does have tables, then a few waste cans and napkin stands are also a must.
---
"If your event doesn't have tables, then add a few high, cocktail tables near the food."
---
Although donut catering for breakfast events is most popular, MyShipley Donuts has box lunches as well. Each box lunch includes a kolache with the filling of choice, a bag of chips, a soda, and a donut. Box lunches are reasonably priced and include enough food to whet the most ferocious of appetites.
Schedule Your Houston Breakfast Event with Donut Catering from Shipley Do-Nuts
Whether you are looking for donuts for a wedding, corporate event, or a quick donut and coffee on your way to work, you can trust Houston's best. You can order at 713-589-3292 or order donuts online.

Organize Delightful Breakfast Events with Doorstep Donut Catering in Houston/ Myshipley – Houston, TX
---
---
---