The Original Shipley Glazed Donut
The Original Shipley Glazed Donut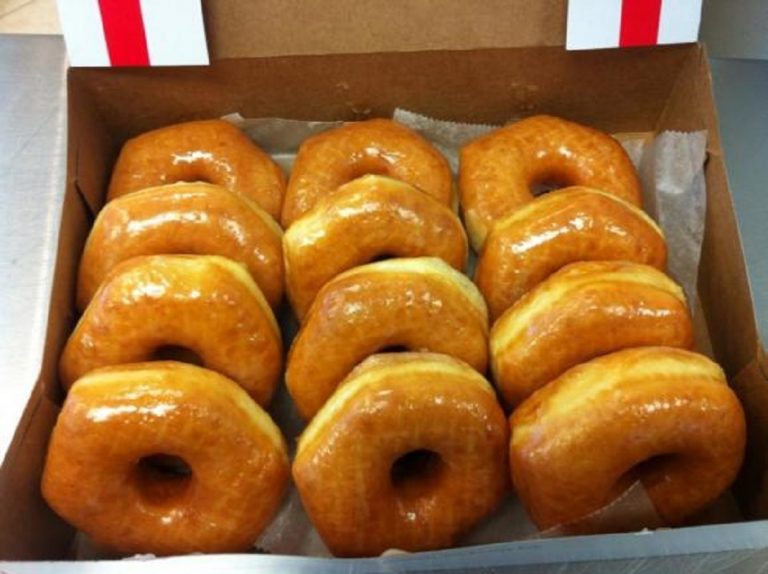 A Donut for the Ages
There's something about our original Shipley glazed donut that can take you to a higher plane of donut heaven. On one hand, there is the satisfaction of biting through that thin layer of sweet glaze into a warm, gooey doughnut. On the other hand, there is the unique taste of sugary sweetness meets fresh baked bread. The combination of the two make for a very powerful experience. We're not saying that it's the fruit of the gods, but almost every life-long, devoted Shipley customer will tell you that it comes in a close second.
Making Life Delicious since the Great Depression
Our original glazed donut goes back to the original recipe of Lawrence Shipley Sr., circa 1936.
Looking backward, it is no surprise that a tasty, inexpensive treat, such as this doughnut, emerged as one of the many cures to the Great Depression. Unemployment was still at 17%, but America was getting back some much needed momentum. American track and field superstar, Jesse Owens, dominated Hitler's 'Aryan Supermen' in the 1936 Summer Olympics in Berlin. Plus, this year also marked the completion of the Hoover Dam (originally named the 'Boulder Dam'). We can't prove that our original doughnut recipe single-handedly raised the country's spirits, but it had a definitive role in American, particularly Houstonian life. With so much hardship in the economy and culture, the Shipley original glazed donut was needed to help make life delicious once again.
Comfort Food at Its Best
Our original Shipley donut can be summed up in a single word: satisfaction. Whether you want just one or several, this donut leaves you feeling, whole, loved, and satisfied.
Plus, if you're looking for culinary craftsmanship, we approach doughnut making as an art form rather than a labor. Although we need to make our donuts in large quantity to meet the great demand, we handle each batch with painstaking care. Our donuts don't just need to look great, they have to taste great, too.
Although we can't provide a legal, watertight guarantee for it, we're pretty sure that our original glazed donuts can bring a smile to almost any face. Don't believe us? Next time you see someone having a bad day, just drop a warm, fresh, Shipley donut down in front of them. (Gently, please!) You're almost certain to receive a large smile in return for your unexpected gift of generosity.
Donuts for Any Occasion
Last but not least, our donuts are safe bet for almost any breakfast or catering affair. They are perfect for enjoying in a lively group setting, as well as in moments of tragedy and hardship. A Shipley donut will never judge you, and always be there when you need it most. (Don't believe us, come by our 24 hour West Houston location, day or night!)
From weddings to funerals, baptisms to bar mitzvahs, holiday parties to corporate meetings, our original donuts are universally welcomed by one and all.
Enjoy an Original Shipley Glazed Donut Today
With our West Houston shop open 24 hours a day, as well as our online donut delivery system, there's no reason for you to not enjoy one of our original classics. Call us now at (713) 589-3292 or order online for a store pick-up or delivery today. Plus, while you're there, check out our COUPONS. Share one with a friend and let them experience the wonderful taste of Shipley Do-Nuts. Hot, fresh, glazed and flaky, this donut is truly one for the ages.
The Original Shipley Glazed Donut | West Houston Shipley Donuts
---
---
---
10,805

Responses to "The Original Shipley Glazed Donut"