Shipleys Breaks the Mold with 24 Hour Houston Donut Shop
Shipleys Breaks the Mold with 24 Hour Houston Donut Shop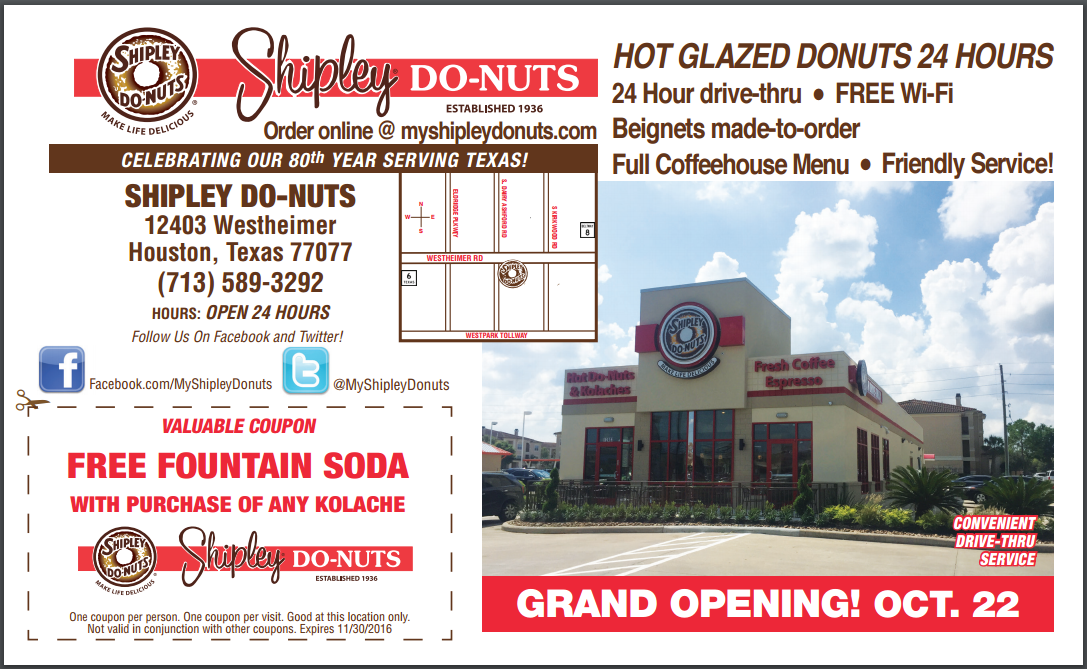 Not Your Average Houston Donut Shop
It's unusual to hear that a Houston donut shop is ALWAYS open for business. Most tend to open each day for the morning rush, but rarely go past the afternoon, let alone the evening. One thing is very certain, it is extremely rare to hear about a 24 hour Houston donut shop.
Well, we're happy to announce that Shipley Do-Nuts has broken the mold with a 24 Hour Houston donut shop. Our West Houston location bakes fresh donuts around the clock, staying open 24/7. This allows you to satisfying your craving for a donut, kolache, or even beignets (that's right, we have those too), whenever you have a craving.
Donuts Without Limits
We feel that the average Houston donut shops limit themselves. They lack options. You can get your typical breakfast treat, maybe a kolache, but that's about it. It's the same way with their time limit. If you, or your pregnant wife (just sayin') wants a sugary treat at midnight or even at 3 a.m., most likely it just ain't gonna happen.
The other common limit on Houston donut shops is transportation and accessibility. With our online ordering and Door Dash delivery service, however, we can bring hot fresh donuts to you, practically wherever you are in Houston.
Plus, how many donut shops in Houston offer the option for corporate and breakfast catering? How about wedding catering, and an amazing donut wedding cake? The chances are slim to none. It would be amazing to have your favorite donuts and kolaches to snack on at your big event, but it just can't happen if they don't cater.
Houston's #1 Donut Destination
In a city that is up 24 hours, it's important for us to appeal to all our fans and customers. We want to be there when you're craving something sweet at an unusual time of the day. With our 24 hour Houston donut shop, we have the opportunity to serve our guests, whether you work day or night shifts.
We also love to offer a great variety on our menus. Fresh made beignets, for example, also make us unique because not many places in Houston, let alone Texas, include this to their menu. You don't have to cross the Louisiana border to taste a sweet beignet.
Plus, let's be honest. Houston transportation can be tricky. No one wants to go out just to satisfy a sweet tooth. Luckily, our shops deliver, so if you can't get to us, we'll make sure we get to you. As you can see, we do our best to ensure that our customers are satisfied no matter what time, what event, location, or selection.
Visit Our 24 Hour Houston Donut Shop Today
If you don't believe us, then come by and see for yourself. Call (713) 589-3292 or order online for a delivery. Visit us at our two locations any time. We're open 24 hours.
Shipleys Breaks the Mold with 24 Hour Houston Donut Shop | Shipley Do-Nuts, Houston TX
---
---
---