Why Shipley Is Better Than Starbucks
Why Shipley Is Better Than Starbucks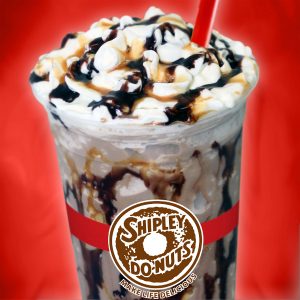 Ask a Houstonian, "Would you rather go to a Starbucks for coffee near me or head to Shipley Do-Nuts?" and a lot of them would answer the latter! Though Starbucks is an incredible coffee chain, there are many reasons why people like Shipley coffee better. For starters, Shipley Do-Nuts is a friendly neighborhood café, not a corporate establishment. It offers fresh donuts, kolaches, and beignets 24×7, gives you great discounts with coupons, and serves everything with a smile!
When you find yourself in a dilemma and can't decide on your go-to coffee shop, think of these reasons why Shipley is better!

1. Step in for Fresh Coffee
Many Starbucks customers often complain of stale coffee. Most outlets use old roasted beans. But not Shipley. At Shipley, we always brew our coffee fresh.
You should consume coffee within 15 days of roast or else the taste quality takes a big hit. With Shipley coffee, you always get fresh brewed coffee that's as stimulating and strong as your love for coffee.
Also, Starbucks relies on sugar and cream, adding unwanted calories to your beverage. Our coffee, on the other hand, is delightful on its own and doesn't need any extra flavorings to taste good. But if you're craving a bit of sugar or cream, we have that on hand at all Shipley locations for your convenience.

2. Don't Forget the Decadent Donuts 
With a name that says Shipley Do-Nuts, you can't go wrong with the donuts. At Shipley, we prepare some of the most tempting, indulgent, and irresistible donuts for our customers. We have a wide range of donuts – from sprinkled and filled, to glazed and coated, all our donuts are exceptionally well-made and delicious.
We often see kids come in to Shipley and say, "Mom, can I please have one of each variety today?" You'll be spoiled for choices when you come in at Shipley Do-Nuts!

3. Relish Our Full Coffeehouse Menu
Shipley Do-Nuts is a complete coffee shop with an expansive menu. The fresh beignets, kolaches, rolls, and sausages are a must try! We also serve value meals for kids and families, making it a great place to celebrate special occasions or corporate catering. Compared to Starbucks that has just a few food options, you'll love our variety. We always prepare everything fresh for you!
4. Open 24×7 for your Cravings

Coffee cravings never follow the watch. In most cases, we crave coffee at odd hours – when we're studying late at night or when we're overworked at the office at midnight. When you're struggling to stay up, you might wonder, "I wish Starbucks served coffee at this hour."
Shipley Do-Nuts heard your wish! Our coffee shop is open 24×7 at Westheimer Road in Houston. You can drive through or place an order online and we'll ensure that you get your coffee, no matter where you are!
5. Enjoy Your Local Hangout
Compared to the corporate setup of Starbucks, Shipley coffee is all about creating a warm and friendly atmosphere. Our staff knows our customers. We do our best to ensure that you have a great time, every time you come in. Families operate both our outlets in Houston and we go the extra mile to become your favorite coffee shop.
You can come in every day and hang out with your buddies. Feel great about conducting business meetings while entertaining clients. Sit by yourself and celebrate the much-needed me time or solitude. Shipley customers often say, "I feel like I'm sitting at my friend's shop, where I can be myself!" Bet you don't feel that way in a Starbucks, right?
Shipley Do-Nuts also offers home delivery and catering. If you have a kid's birthday party coming up, choose from our catering menu and guests will remember your party for its food! Plus, we're reasonably priced so you won't experience a dent in your budget by choosing Shipley coffee. So next time you want a coffee near me, try Shipley Do-Nuts and you'll forget all about Starbucks!
Get to one of Shipley's Do-Nuts Locations Today!
Want to enjoy the Shipley experience? You can get all the goodies and coffee delivered, catered, or you can stop by our two locations and pick up your favorite donuts. Call 713-589-3292 to try out our fresh coffee and gourmet delights. Visit us with your friends and family for breakfast tomorrow!
Why Shipley is Better Than Starbucks | MyShipleyDonuts – Houston, TX
---
---
---
41

Responses to "Why Shipley Is Better Than Starbucks"
Amoxil Feline Side Effects Cialis Migliore Secure Ordering Provera Where To Buy Delivered On Saturday levitra why so exspensive Diflucan

In House Pharmacy Uk Cialis In Svizzera Isotretinoin sotret in germany over night cialis vs viagra Kamagra Tab Viagra Bestellen Strafbar

Generic Pyridium Best Website With Overnight Delivery cialis price Baclofen En Ligne 10mg

Where To Purchase Stendra viagra Levitra Scaduto Fa Male Cialis Tadalafil Generic

Priligy Ftbl 30 Mg Kamagra Uk Pay With Paypal cialis price Purchase Levitra Without Prescription Does Amoxicillin Suspension Treat Abladder Infection Proscar Orange Propecia

Hello, thank you for blog online pharmacy hydrocodone

Thank you for every other informative website. The place else could I get that type
of info written in such a perfect method? I have a undertaking that I'm just now running
on, and I have been at the glance out for such information.

Asking questions are truly fastidious thing if you are
not understanding something completely, except this piece of writing presents good understanding
yet.

generic viagra without subscription walmart multiple male orgasms with cialis or viagra viagra erection viagra cost per pill slipped friend viagra

rhino instead of viagra viagra 25mg cost cheap viagra son takes excessive amount of viagra for mom can,t maintain erection with viagra

https://viagrnetwork.com/# – generic viagra

schizofrenia Może to być również skuteczne w przypadku warunków fizycznych. Jedno badanie na szczurach wykazało, że olej CBD może leczyć ból związany z zapaleniem stawów, podczas gdy inne badanie na ludzkich komórkach wykazało, że krem ​​CBD był skutecznym środkiem przeciwzapalnym.

5. Employ hues in direction of label the bins alongside with its quantities. It is far better towards consist of coloration coordination for each individual of the rooms in just your fresh new dwelling. This is toward assistance by yourself and the removing provider in direction of notice the place in direction of point the bins. Oneself can employ crimson for the find out's bed room, inexperienced for the kitchen area and therefore upon. As a result of carrying out therefore by yourself can choose the packing containers out of the course thus the elimination services can vacation spot your household furniture well.

I think this is a real great blog.Much thanks again. Great.