Delicious Donut Facts
Delicious Donut Facts
When is donut time? All the time! Houston, Texas is home the best 24 hr donut shop. Either in the morning for breakfast or a midnight snack, My Shipley's Donuts is open for you to enjoy a sweet or savory delight! We have many different types of donuts, kolaches, drinks, and more.
Although we see donuts sell all over the country, there are still plenty of things you might not know about them. These delicious donut facts are sure to impress you! Click below to order donuts now!
---
What Are Donuts?
Donuts are a special, sweet treat purchased by the thousands every year. It is a fried dough pastry that is round, fluffy, and has a hole in the middle; perfect for placing your finger in for a perfect bite!
No one really knows the true origin of these sweet, crispy, and fluffy delicacies. There has been a long time debate about what country made the first donuts and the exact ethnic region of origin.
Bakers in the past have created donuts without the hole. They would bake the pastry and in the moment of taking it out, they discovered that the middle of it would be raw and uncooked. They decided to just start punching that part out of the donut and leave the rest as is, creating the famous "doughnut."
---
"Donuts are a special, sweet treat purchased by the thousands every year."
---
1. Statistics Show That Americans Love Donuts
According to research, in 2018 alone, 202.08 million American consumed donuts in the US. Now, that's a lot of donuts! Most of the My Shipley Donuts is open for the demand of family breakfast since the top seller day of the week is Saturday.
In the weekends, we are usually on the run. Are you going shopping and need a snack for your commute? Are you running errands and can not find a quick snack? grab a donut!
Donuts always make delicious treats, either planned or unexpectedly. This is a day we decide to have a sweet treat for the family and give them a sugar rush. You can never go wrong in purchasing a donut, as there's one for every palate.
---
2. Donuts are for Anytime!
Donuts are not always just for breakfast. People buy donuts all year round! Some buy them for the office on their way to work. Others purchase them to have a nice birthday treat.
Others simply wake up at 3 am and head to their nearest 24 hr donut shop and satisfy their sweet tooth! Because donuts are also very practical to hold and carry, they make an easy pastry to enjoy for any event or occasion.
---
3. The Beginning of the Delicacy
Did you know that the first donut machine was created in New York City? We must all thank the famous Russian refugee by the name of Adolph Levitt created this machine in complete success!
He developed a fast donut-making-machine that was sure to guarantee happiness to his long line of customers. Who would have thought that his creation would bring happiness to people all across America?
Demand starting to grow down to Kentucky and North Carolina. People started to discover the "secret recipe" to a donut and developed their own version of it.
Because of the increase of demand for donuts, many decided it to be a good idea to make business and sell at their convenience. As you can see, there was no better idea at the end than making it a 24 hr donut shop.
---
4. There is a Donut for Everyone
Donuts come in all sorts of flavors! 24 hour donut shops work tiresomely to create different flavors to please its customers. Donuts can be jelly-filled, extra-crispy, extra soft, decorated, iced, plain, and made in so many other ways!
As a 24 hr donut shop, they need to keep baking and provide different flavors and demand for its non-stop customers. From little toddlers having a chocolate donut to elders having their basic iced donut, you can never go wrong with this tasty option.
The top-selling flavors are listed below in order;
Original Glazed
Chocolate Frosted with Sprinkles
Double Chocolate
Cinnamon
Boston Cream
Apple-Cinnamon
---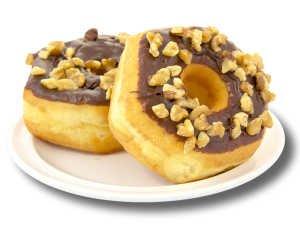 ---

---

"24 hour donut shops work tiresomely to create different flavors to please its customers."
---
Donuts Galore!
My Shipley Donuts has been around in Houston, TX since 1936. They take great value in their work and stay in business by pleasing thousands of Houstonians daily. They bake non-stop, as they are a 24 hr donut shop, always providing the freshest batch of donuts, by the hour. Donuts have been a popular item for customers for many years, and the demand for them just continues as the Houston population increases.
---
You got the facts; Now get your donuts!
Donuts are here for you! If you have an event coming soon and don't know what to take to the party? Get something like unique like donuts! It's always Donut time at Shipley's Donuts. In Houston, there is no better 24 hr donut shop like Shipley's. Are you ready to order your donuts today? Click the button below to order!
Delicious Donut Facts | My Shipley Donuts – Houston, TX
---
---
---